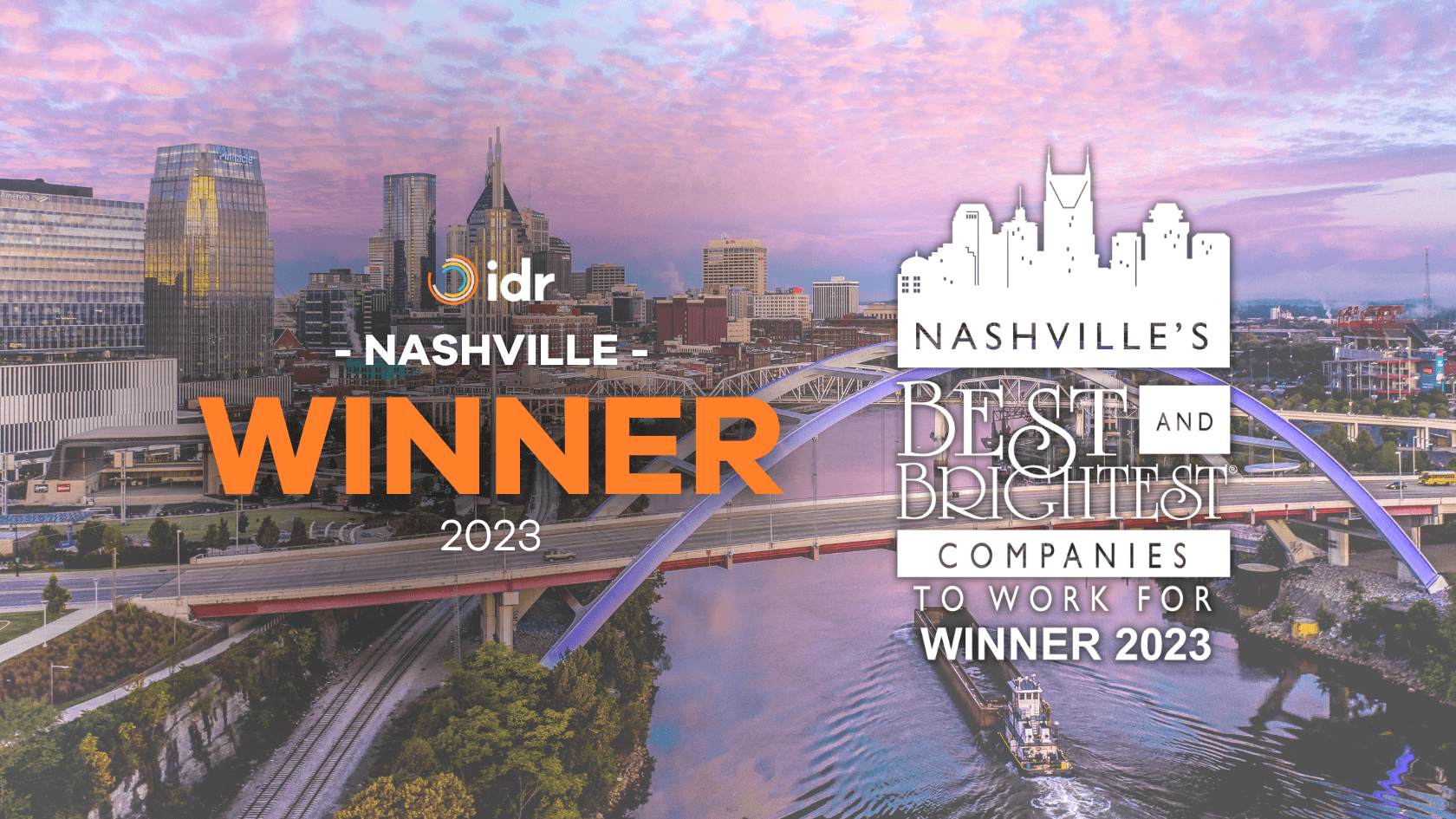 Back to the blog
IDR is Recognized for a 3rd Consecutive Year as One of Nashville's 2023 Best & Brightest Companies to Work For
Nashville, September 12, 2023 — IDR, Inc., an employee-owned staffing organization, is pleased to announce their recognition as one of the 2023 Best & Brightest Companies To Work For in Nashville, Tennessee. This accolade is awarded to companies regionally and nationally by the Association for Business Resources (NABR). 
The Best and Brightest Companies to Work For® program recognizes organizations that exhibit dedication to excellence in operations and employee enrichment, while generating productivity and financial achievements. This competition scores potential winners based on a rigorous national standard as well as regional data on company performance.
Applicants are measured on exceptional human resource practices and an impressive commitment to their employees through areas such as diversity, employee education, work-life balance, and employee retention.
"We are honored and humbled to receive the Best and Brightest Award, especially in an area of our organization that we hold to such a high standard," Director of Operations Madi Marlatte said, "If one thing has remained steadfast during my 9 years at IDR, it is our commitment to our staff and I am excited to see how we continue to grow in the future."
"Witnessing the passion and commitment our Nashville team has to our organization is truly inspiring" stated IDR, Inc. President and CEO Ashley Holahan. "We began IDR, Inc. with the intention to dedicate ourselves to staff enrichment, and this award proves that we are fulfilling our purpose." This is the third time that IDR Inc.'s Nashville branch has earned the Best & Brightest Companies to Work For award.
IDR, Inc. strives to create an enriched employee-centric experience and foster a culture of motivation, connection & autonomy. To learn more about IDR and their recent awards and accolades, visit the IDR awards page.
Interested in joining our team? Visit our career page for more information on our open positions.